Biography
PHILOSOPHY: How do I view what I do?
We, humans, are created to be healthy. It is totally possible to live without illness even unto old age. We have within us that which is necessary to maintain health.
Our relationship with medicine is to seek its help to stay well.
The Chinese concept on the relationship of health and medicine is that the focus of the Chinese physician to keep his/her patients well.. The inferior doctor cures his patients. The patients of the superior doctor do not get sick.
However, in this society, we do not seek medical care to stay well. It is only after we are ill, that we go for help. Sometimes, it is only after we have been ill for a long time and are so ill that we cannot function, only then, do we go seek help.
Medicine is a sacred field. Its main goal is to help us achieve and maintain optimum health. It does this by the prevention, alleviation and cure of pain and diseases in a way that works with nature that will restore us to health that will do not harm, that results in no bad side effects,
In China, there is profound treasure. Chinese Medicine is one of these treasures. There is much in this treasure that can benefit us. If allowed to do so, it enriches the Western world. Inspired by my Chinese ancestry, I am committed to using the ancient wisdom for modern problems.
EDUCATION:
SAMRA University of Oriental Medicine, Los Angeles - Doctor of Oriental Medicine, 1985
Beijing Medical University, Beijing, China - Internship & Diplomate,* 1982
SAMRA University of Oriental Medicine, Los Angeles - BS/ Acupuncture, 1981
University of California, Berkeley - BA/ Mathematics/History
*A diplomate is a professional who, after having matriculated and earned a doctorate, undergoes further rigorous specialization and is examined thoroughly by the certifying board within his profession.
LICENSES:
Certified Acupuncturist, State of California, 1983 to present
PROFESSIONAL EXPERIENCE:
Private Practice in Acupuncture and Chinese Medicine, San Diego, CA – 1983 to present

Emei Qigong

• Certified Teacher
• Energy Healer
American Institute of Oriental Medicine, San Diego
• Faculty member – Oriental Medicine Dept., 1989-1991
California Acupuncture College, San Diego, CA
• Faculty member – Oriental Medicine Dept., 1983-1987
SAMRA University of Oriental Medicine, Los Angeles, CA
• Teaching Clinic Coordinator, 1980-81
• Faculty member, 1982
• Vice-President (special assistant to the President), 1982-1987
PROFESSIONAL ASSOCIATIONS & MEMBERSHIPS:
Emei Qigong USA, Co-Chair and Board Member, 2007 to present
California State Oriental Medicine Association (CSOMA), Current Member
California Alliance of Acupuncture Medicine (CAAM), Current Member
National Accreditation Commission for Schools and Colleges of Acupuncture
• Commissioner, 1984 – 1986
National Council of Acupuncture Schools and Colleges
• Member, 1983 to 1985
• Board of Directors, 1984 – 1985
California Council of Schools of Acupuncture and Oriental Medicine
• President, 1984 – 1985
PUBLICATIONS:
"Why Should I Practice Qigong" The Light Connection, April, 2006
"Healing From Within" Idea Today, June-July, 1994
LANGUAGES:
English: fluent – oral and written
Spanish: fluent – oral and written
Chinese (Mandarin): fluent – oral
Chinese (Cantonese): fluent – oral
OTHER:
Standard Teaching Credential, Secondary (Life) State of California
Standard Teaching Credential, Elementary (Life) State of California
Los Angeles City Schools
• Teacher – Adult Education, Bilingual Program
Montebello Unified School District, Montebello, CA
• Teacher – mathematics, social studies, alternative program, bilingual program
• Director – Student Government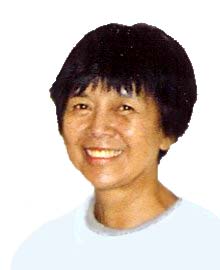 Dr. Celia Tom, OMD, L.Ac.